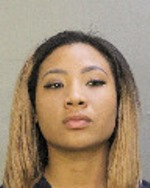 Aimee Chin-Sang #15564-104
FCI ALICEVILLE
FEDERAL CORRECTIONAL INSTITUTION
P.O.BOX 4000
ALICEVILLE, AL 35442

Hi all. My name is Aimee but I go by China (because of my eyes). Thank you for taking the time to look at my profile. I am looking for someone to have great conversation with as I don't have anyone on the outside to hold me down. I am open to whatever but your personality is what really matters. In my spare time I like to go to the law library and do research on ways I can shorten my sentence.
Race: African American
Date of Birth: 2-17-1993
Height: 5'5"
Religion: Christian
Education: Bachelors
Earliest Release Date: June 2019
Maximum Release Date: October 2019
Would you like letters from both sexes? Yes
(This does not refer to sexual orientation)
Can you receive and send Email:
Occupation before prison: Croupier/DOT
Activities in prison: Sports, coordinator of inmate activities, crotchet


Notice: To verify all or some of the information given please click here