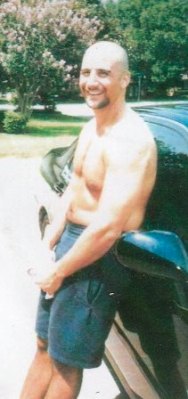 P.J. Emmitt #1383329
Non-Domestic/UCC 2 - 302
3060 FM 3514
Beaumont, Texas 77705

I am currently finished with the last two medical trades that I will be taking (the medical billing/ and pharmacology trades). when I have sent those transcripts for review at my actual medical college, I will then by entering what will be my course for my Doctorate degree in Naturopathic Medicine.
I am currently 40 years old; and, have made quite a bit of errors in life...but the too, what errors that I have made, I have put to a personal application, into how to alleviate to re-occurrence of those same 'Freudian-slips' (technical feaux-pas). So, I stand better for having made those mistakes.
Learn another language... (I speak four)... it will assist one to expand intellectual horizons. Study Latin. for it's the base construction of almost all English linguistic 'gramatics'. You can then construe connotative-meanings from simple deduction of 'root-derivatives' (separating large words into bits and pieces, and where one does not have to look the word up to then understand it's meanings). Knowledge will'set-you-free'.... no matter where one may be located, education is true freedom. Learn till the day that you no longer retain capacity to do so; it will heed the mentality well, and amount to (brain) exercise... (even heard "(u) see it, or loose it (??").
My familial relationships remain strong and fervent, thanks only to the Lord, and fervence to him.
I remain true to what has been previously stated: "no one can accomplish anything in the world if he/she places their minds to it". I've studied criminal law, international business, all aspects of medical science, in detailed and extensive manners. I believe I have been blessed in that matter, and hope and pray to one day convey my thanks in what matters to 'society' in general, most specifically in the application of medical science on a naturo pathic level.
My prayers are with each and everyone that reads this... "May his love empower each and every one of you to excel in all that you pursue in life."
End update
As you can see above, my name is PJ, and hopefully it will be nice to meet you (smile). I am actually a Junior, so I was named after my father (what a nerd, right? just kidding). Actually, I have a wonderful relationship with two beautiful parents. In fact, something my father said when I was a child has always stuck with me, he said I'd be lucky to have 5 good friends when I died, and because of that, when I meet someone I always think if that person will be one of them. I was born and raised in Dallas, Texas, and have lived there most of my life, along with most all the rest of my family. It was really cool being raised in a big city and I really couldn't imagine it otherwise. I have been to some college in the world and have been back to some inside these walls. My biggest passions have become the law, fitness, and history.
What am I seeking? Just someone to talk to, who will accept someone at face value, and not be judgmental. Someone to share joy, laughter, sorrow, and pain with, and all the in between stuff too. When it comes to being a friend to someone, I'm as tolerant as they come and accepting as well. John 15:13 states, "no greater love is there than this; that he lay down his life for his friend". A true friend is a loving, special, and very real ands true friend. Like someone recently told me, reminded me really, we cannot divorce our friends and family neither.
I'd say my virtues are tenacity and perseverance. At 39 years old, my desire to learn and educate myself is stronger than it ever has been in my life. Today I am somebody because I believe in myself and it's one of the greatest feelings in the world.
I challenge you to open your heart, mind, and soul to someone you've never met before. To step outside yourself and extend the hand of friendship to someone new. Take care, God bless, and remember this... "As long as you believe in yourself, you can accomplish almost anything in this world".
2012 Update: I'll be 36 in December. I've had this ad since 2009, since it's inception, I have accomplished the following: Paralegal certification, Fitness and Nutrition Training certification, and enough college credits to start my Bachelors Degree in Criminal Justice. I start my BA next month on a Criminal Law focus and Public Policy. It's correspondence, and I take my proctored exams here. If I stay on track, I'll have my Masters Degree in Criminal Justice in two years flat. Live your dreams, accomplish what you set forth, and never let anyone hold you back from accomplishing your dreams.
Update 2014; April thereof
As of April 2014, I acquired enough credits to enter into a Bachelors degree program to business law with one Southwest University in Louisiana via correspondence. This degree remains in pursuit diligently, however, like anything in life, unforeseen circumstances have delayed completion of such (waiting to replace lost typewriter to complete essay mandates).
Due to the fact that my BA studies have been partially delayed, I decided to remain ever productive and enroll in a natural health certification program. On my BA, two history courses have been completed, along with American Criminal Justice. Also, I'll be starting an nonprofit organization with website access providing free health information. When completed, I'll provide web address.
Last, I want to say that no matter where one is at, he/she can feel imprisoned if your diet doesn't let you acquire the necessary B vitamins for the day.
May the good Lord be with each and everyone of you reading this. May he bless your hearts and soul to empower you to obtain your goals in life, for no matter where you are, you can accomplish anything in the world if you put your mind to it.
Update July 16th, 2014:
I have completed half my Natural Health Consultant Certification. Three of my courses have been 100% on my testing mechanisms. I have applied to Westbrook Medical School for a Doctorate of Naturopathic Medicine. Preliminary to such, the school requires a DA in Health Science. I chose Clinical Nutrition. My dean there waived half the degree requirements, which will allow an expedient entry to the Doctorate degree.
2017 March Update
I have completed the following
1. Jurs Doctoral Criminal Justice
2. PHD Law History
3. PHD Thocoidial Metabolism
4. PHD Gastoentemology
5. BS, MA, and nearly thru with Doctorate in Criminal Nutrition
Race: White
Date of Birth: 12-27-76
Release Date: Parole Eligibility Date: 7-8-2025
Maximum Sentence Date: 7-8-2045
Height: 5'10"
Religion: I believe in the Lord
Do you smoke? No
Would you like letters from both sexes? Yes
Education: Associate credit obtained
Occupation before prison: Sales
Activities in prison: Educational reading, studying law, exercise almost daily, barber (when allowed), studying medical science

Notice: To verify all or some of the information given please click here