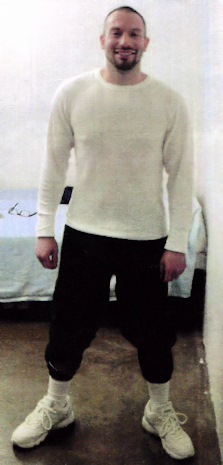 Eric Brazina #661527
Ohio State Penitentiary
878 Coitsville - Hubbard Road
Youngstown, Ohio 44505
Hey my fantasy girl. Have you ever had that fantasy that you would have that rare type of man in your life? I am that guy women dream about. I will satisfy you in such a way you will be questioning if this could be real.
My personality and character is unique, something of a one of a kind quality. My goal and focus are creating long lasting, fulfilling, pleasurable, memorable friendship/relationship. I enjoy and have a passion for creating something out of nothing. My dream of opening my own business will soon be reality. I am fascinated with fashion and enjoy talking about new ideas, styles, or treats.
I joined this website to gain a solid person in my life. Let me take you on an adventure you will never forget and share life's precious moments with you because these moments don't have value unless they are shared. So, let's be each others fantasy and see if we can't turn that fantasy into reality.
Date of birth: 1/19/1991
Height: 5'8"
Education: G.E.D.
Occupation before prison: Cook
Earliest release date: 7/2027
Maximum release date: 7/2027
Would you like letters from both sexes? Women
(Question does not refer to sexual orientation)
Can you receive email? Yes
If yes which email service? Via gettingout.com
Can you respond to email? Yes
Activities in prison: Working out, reading, studying to own my own business
Anything Else? Working on myself and my goals.

Notice: To verify all or some of the information given please click here